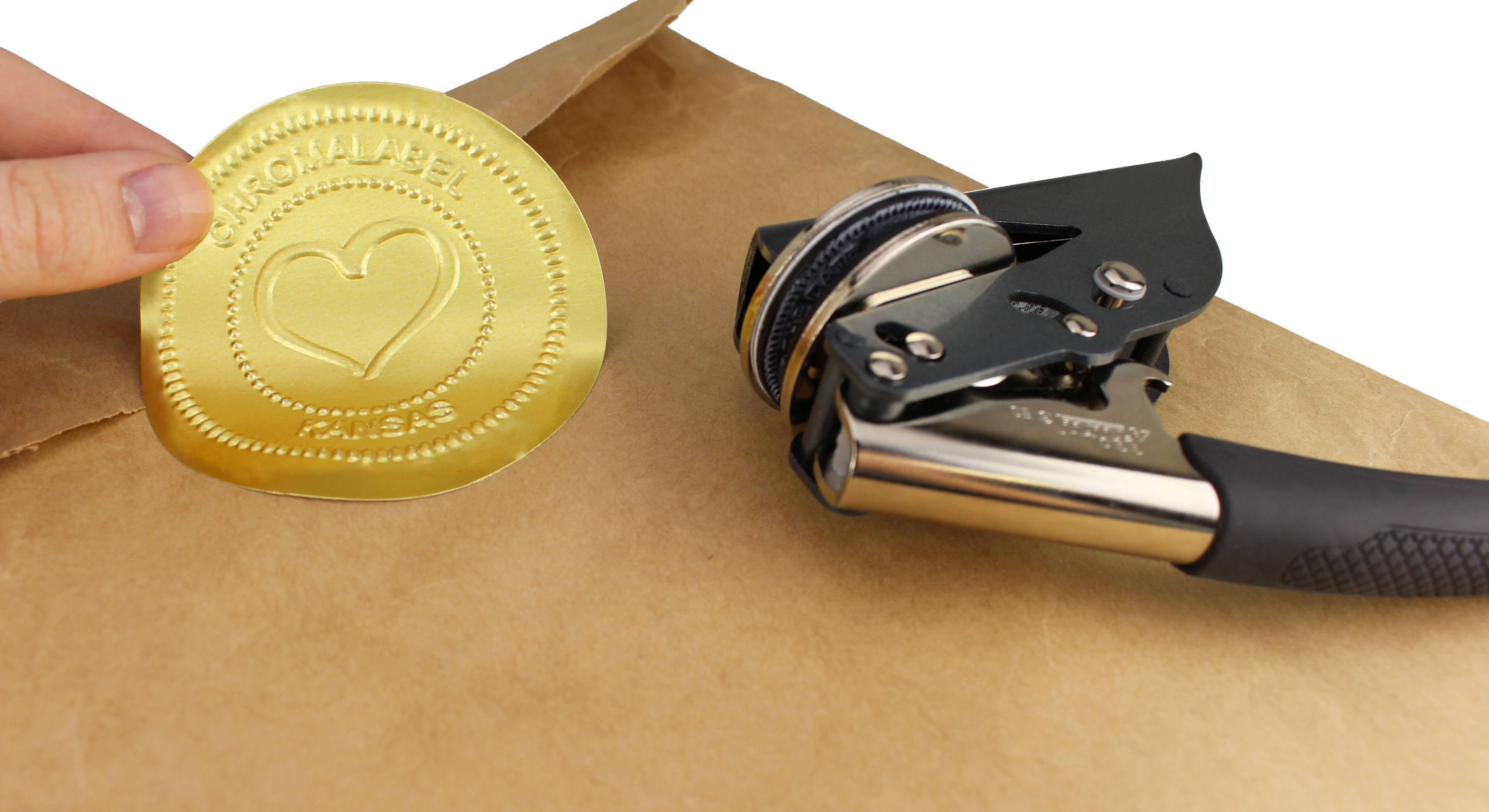 How to Emboss Stickers with a Stamp & ChromaLabel Dots
With packaging becoming more and more important, it's vital that your brand has something memorable to offer consumers in a world of thousands of competitors. One way to enhance your brand, through packaging or physical correspondence, is by using a simple embosser.
You can make it say anything - and have nearly any simple image - from your company's name and logo, to your slogan or message, a website landing page, or just a plain design to give your customers an extra sense that you are a brand that cares. Here are a few of the reasons why you would want to start this practice, and how to go about doing it:
Golden Spots:

I have over 20 colors of dots. My latest is bronze—a deep rich gold. I emboss them with a queen bee and use them in gift wrapping our stained glass ornaments. We get compliments galore on our gift wrapping.
Why go through the trouble?
1 - Adds Physical Texture: When your customer touches the packaging or the mailer, your brand is - literally - going to stick out.
2 - Adds Visual Interest: Especially if you emboss using our metallic gold, silver, or bronze dots, any light will capture the raised finish, making your brand elegant and exciting.

3 - Adds Value: A relatively simple investment of a custom stamp will make your brand look like a million bucks.
Add tons of value for a minimal investment:
Whenever we think of anything embossed, we automatically think of quality, importance, and elegance. Just think of diplomas, fancy business cards, official government documents, notary seals, and much more.
Could your brand benefit from this kind of mental association for your customers?
The answer is: absolutely!
Your business will 100% benefit from your customer's first impression of quality, importance, care, and elegance that embossed packaging will deliver. It's a simple decision!
Simply position the embosser stamp over the label, and press hard. The label material - particularly our metallic dots - will hold the shape beautifully.
It's up to you whether you emboss the label before taking it off the liner, or after applying it to the surface. In our experience, the best result is to emboss it after it's been applied to the paper or envelope, but if you're putting the label on a bulky package, or another surface where you can't fit the stamp, your results will be perfectly fine.
Experiment with different colors, sizes, designs, and applications - and don't forget to let us know how it worked, like Kurt did! We are so thrilled to see the great ways our customers are using ChromaLabel's embossed stickers to enhance their business!
Other Sizes of Dots Perfect for Embossing: