SOLVING PROBLEMS SINCE 1976
SAVE your BUSINESS
TIME & MONEY
Stop worrying about inventory issues, where products & people are, and who is in charge of what process.
We've had decades of experience helping people just like you get better organized and better prepared for tomorrow!
Let's Get You Organized! Start with Your Industry:
We're ready to ship 1,400 varieties of our stock tapes & labels same day. And with our central location, odds are you'll have it within 2-3 business days!
No extra charge for our location - that's just a
benefit of working with us!
We love making custom products. Yeah, lots of places print stickers. Very few places print tape. Even fewer places have a human doing QC.
Even fewer fewer places will have 4 humans check each order, to make sure it's exactly what you expect... Read More >>

Feel like a human at work.
We treat you like... you! Blanket orders, partial shipments, multiple locations, stock products but with custom packing... the answer: yes!
We treat you how you'd want to be treated. And we stand by our products' intended use 100%, no matter what, no questions asked. Read More >>
Companies who
trust ChromaLabel:










Companies who
trust ChromaLabel:










See how ChromaLabel is helping other businesses:
GO TO THE HEAD OF THE CLASS
Become a Labeling Expert:
How to increase inventory efficiency: use color-code labels for visual clarity along with your IMS for the best, most fool-proof results. Here's how to achieve it with ChromaLabel's big, bright, colorful labels.
That's simple, it's our way of giving even more to our community! You're the reason we've been in operation for going on 5 decades now and we never want to forget that. People like you are the ChromaLabels of this world - day to day consistency that makes a difference! 
What happens when thirteen of us enter into a sauce competition for the whole company to judge? Well, a three-way tie… but we didn't let that stop us from crowning one person the undisputed sauce champ.
ChromaLabel sells a variety of color-coded office supplies for all of your color-coding needs. Whether it's for business or just personal needs, ChromaLabel is the place for you.
The perfect way to stay organized, we offer binding tape, color-coded products, such as color-coding labels and multi-colored stickers, and so much more!

We even offer custom color-coded labels to make sure you get exactly what you want and need. We want to help you be as successful and organized as you can be, and our high-quality products do exactly that.
Do you have any questions about our color-coded labels?
Contact us today at (800) 256-0435 — our staff is ready to assist you.
We look forward to helping you find the perfect color-coded office supplies!


It's all based on the Golden Rule. It's how we try to live our lives, and it's how we run our business.
We think it makes a difference.
Which means we stand by our products' intended use 100%, no matter what, no questions asked, no holds barred, no ifs, no ands, no buts.
If you have a problem with the first pack/roll/item, we will solve it. Refund it. Send you a replacement. Whatever it takes.
Just reach out to our ChromaLabel Team. We're based here in Kansas, USA, and we're here for you, real live people, no phone trees during business hours.
It's how we want to be treated. And it's how we promise to treat you.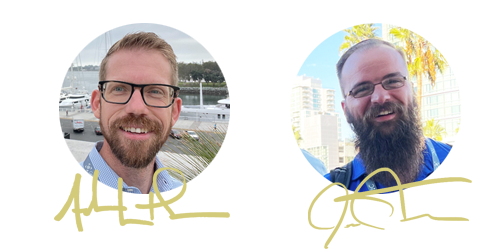 Andrew & Joe
Co-Owners, ChromaLabel