About a week ago, Martin (the HR guy) was seen posting papers around theplant.
Most of us didn't pay much mind at first, after all HR people are always posting8-½ x 11s on any wall that has available space.
All Employees are eligible to enter a sauce.

Keep your sauce identity secret!

Participants must contact Martin with their entry no later than Wednesday at 5pm to enter the contest.

Bring your sauce to the break room Thursday morning by 10:30 am so they can be labeled. (you can tell we love our stickers can't ya?)

Voting will take place via paper ballot with

color-code dots

The sauce with the most votes wins! A tie splits the prize.
Soon a buzz could be heard around the building… Are you entering a sauce? ...I've got a sauce to blow your socks off!
We gathered around in the back lot at High Noon on Thursday.

Martin had set out the sauces in matching bowls with a color code dot corresponding to each sauce. Martin had a twinkle in his eye and a smug look on his face as he explained the voting procedure. There is a label on the front, with a corresponding box of stickers. Taste all of the sauces with the fries… once you've decided that mine is the best, choose that color, tear off a piece of paper, affix a dot to it and drop it in the ballot box. The one with the most dots wins! Then Andy coolly piped in from the back, "which will in fact be mine."
As you can tell, this competition was going to be fierce.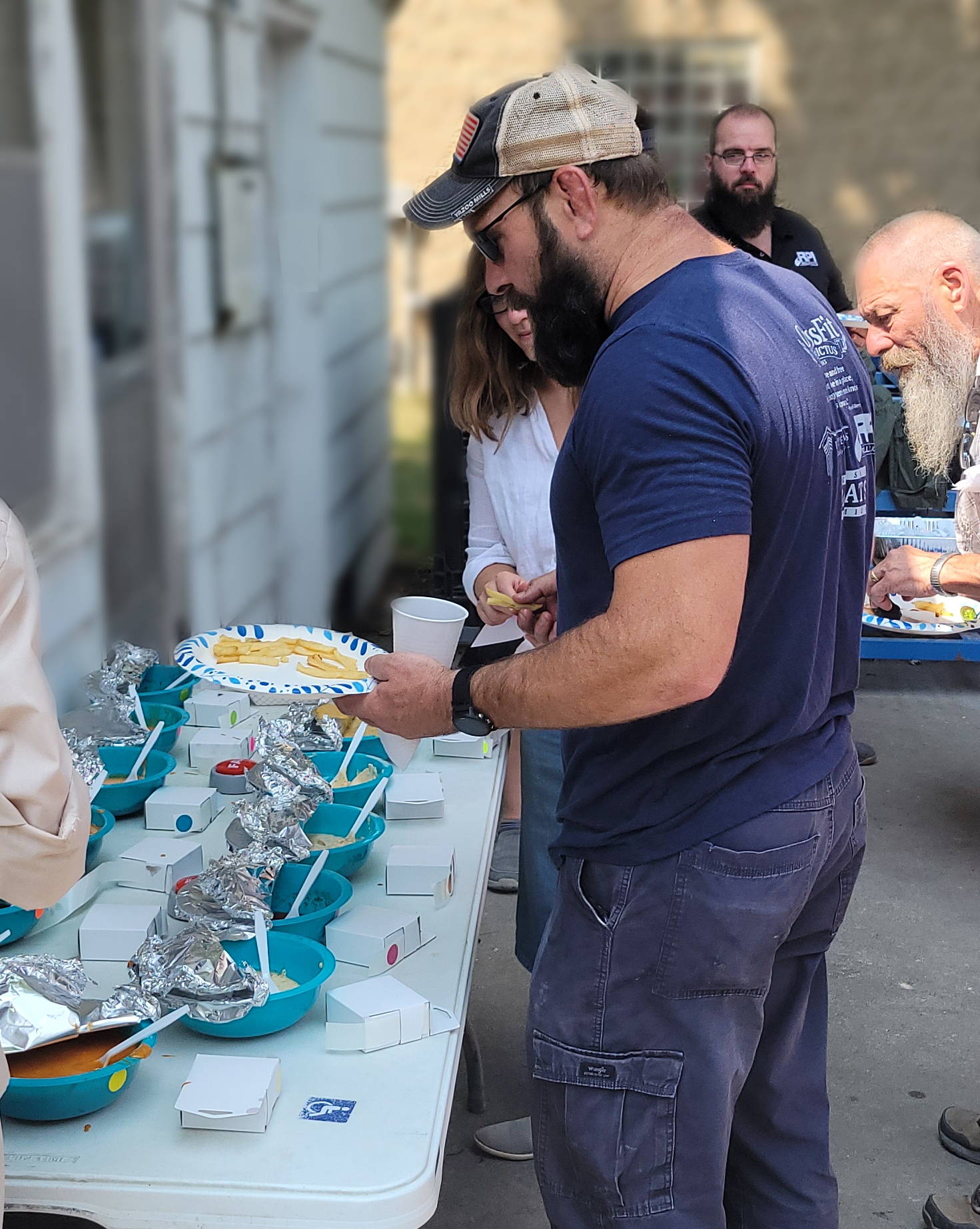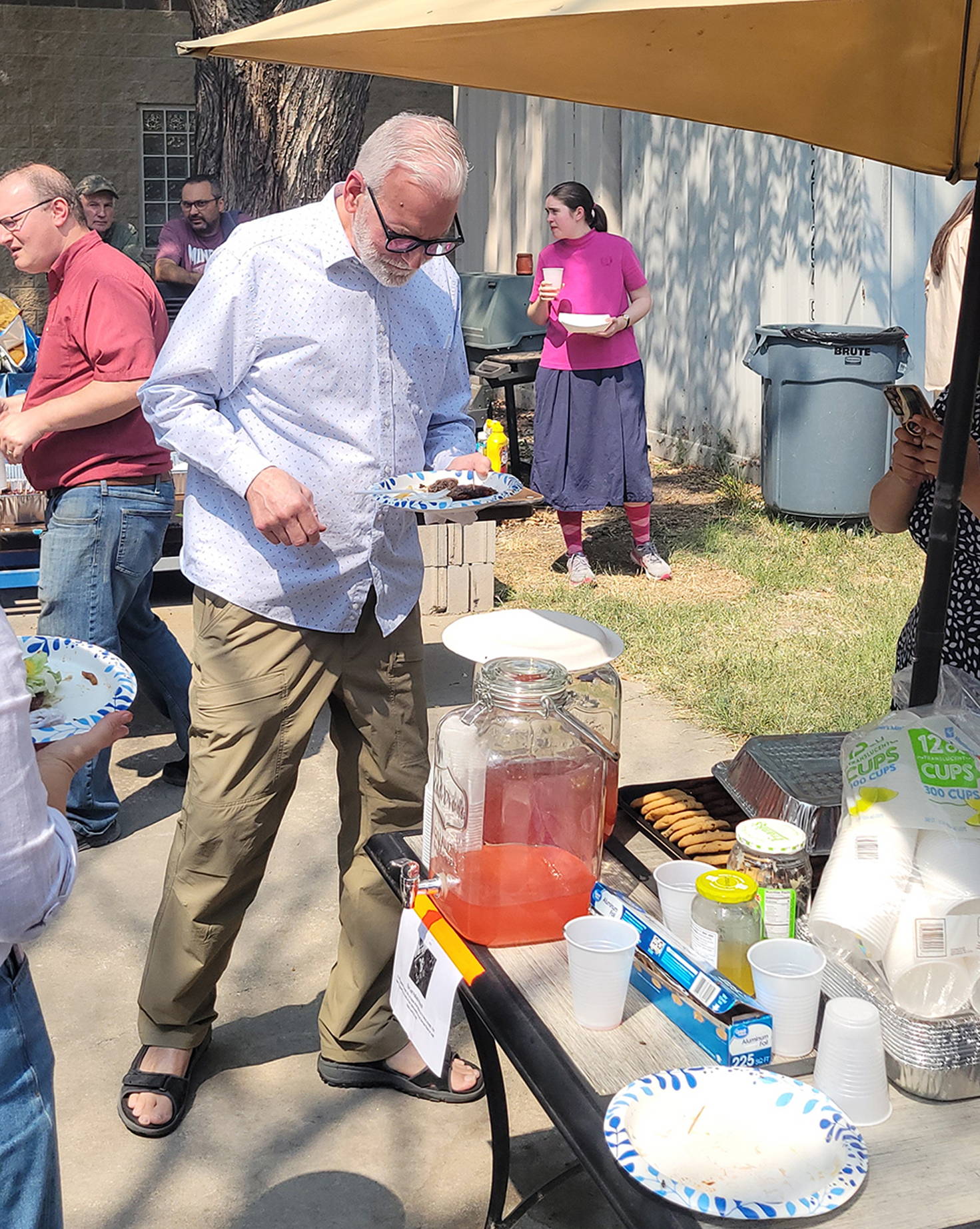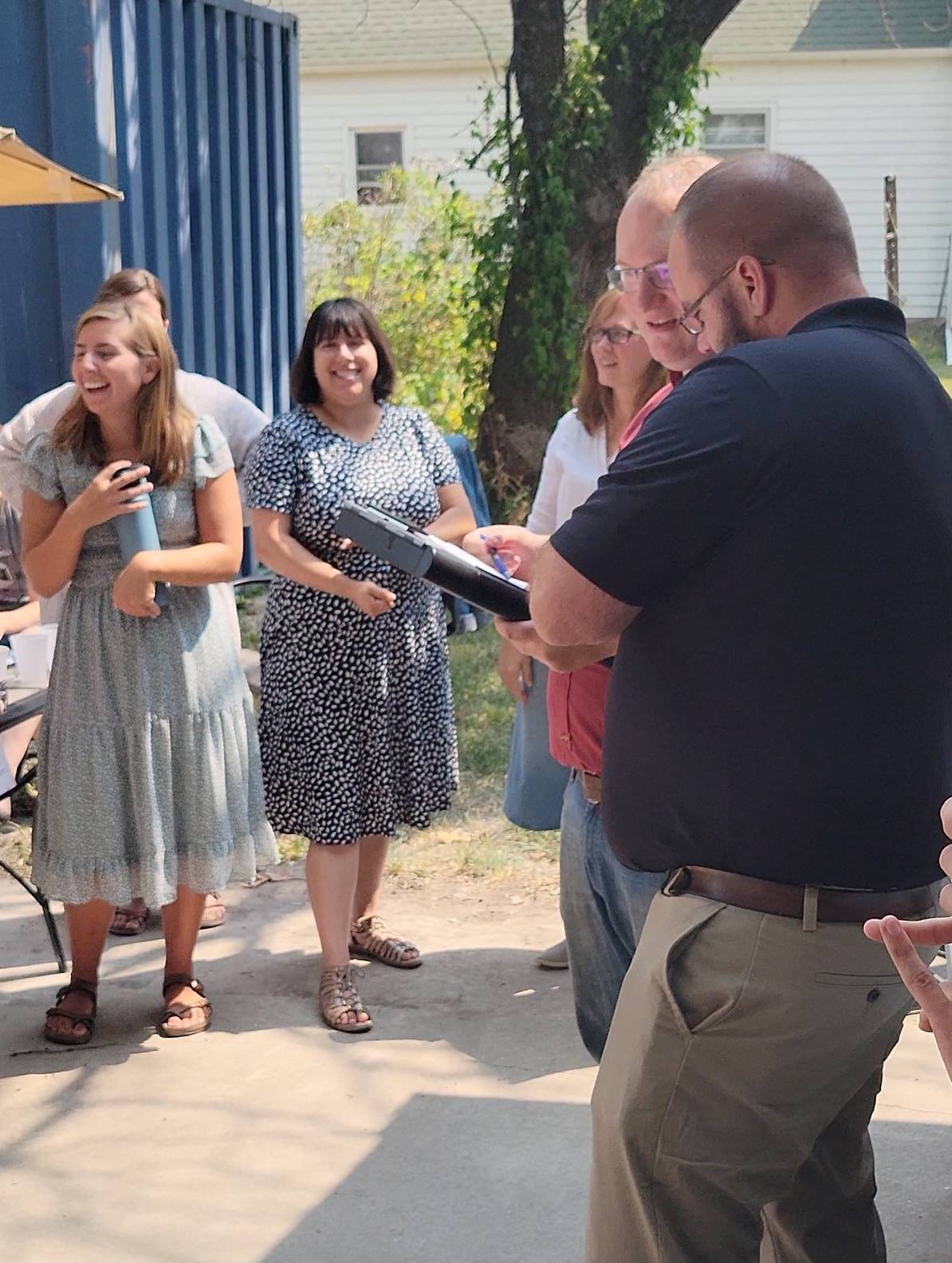 Ballots cast, tallies in, the first round came and went with a three-way tie.
The next round would see Andy, Nick and Larz going head-to-head-to-head. Everyone went through another round of tasting. A few people switched their votes in the second round between the top three sauces.
And now a brief word from today's sponsor…Is it a shameless plug? sure… but since my sauce didn't even make the podium, I need something to combat the self-doubt. If you are looking at running your own cooking competition for boosting camaraderie and healthy competition amongst your co-workers, we can set you up with a special pack of 30 stickers of each of our 38 colors. Just send an email to info@chromalabel.com with the subject line Super-Sauce
Back to the Good stuff. Where were we? Right… Larz, Nick and Andy going head-to-head-to-head.
What were these sauces anyway?

Larz's Sauce- his base was a homemade BBQ sauce he had made the other day with Ketchup, White Vinegar, Apple Cider Vinegar, Brown Sugar, and I quote, "Half the contents of the spice rack." From there he got a little fancy with his own spin on a cowboy sauce mixing his homemade BBQ with Mayo. Then he took a tablespoon of mustard and a teaspoon of honey and made, you guessed it, honey-mustard. With his Honey Mustard Cowboy Sauce he added chili powder and cayenne pepper till he determined "that was enough" (I know these secret sauces are super precise, aren't they?).
Andy's Sauce- halfway through getting his homegrown peppers ready for a lacto-fermentation process for hot sauce, Andy decided to give the sauce comp a try. So he did what any sensible man would do–took an enchilada he made for dinner, threw it in a blender, tasted it and said, "that's frickin good!" Now with a liquified enchilada on his hands he had to get creative… He was already working with Cilantro, Home Grown Jalapenos and Cayenne Peppers, so back to his trusty blender he went, mixed in some Mayo, Plain Yogurt and 'whatever' and found himself the next day in the finals.
Nick's Sauce- unlike his blender-happy compatriot, Nick set his atmosphere with some pleasant Beethoven, selected a small saucepan, threw in a little bit of butter, and began conducting his symphony of sauce. The base of the sauce was a butter bacon shallot reduction with a "heck of a lot of pepper" and of course a few drops of quality bourbon. In the morning he mixed his reduction with Hellman's Mayonnaise and called it good.
Nick swept the competition in round two. Screaming in with a score of 13 he blew past Larz, in second place with 8, and Andy with his consistent 4 votes.
Win or lose, the sauce competition was a great success!
The ChromaLabel team was able to put the summer to a close, and reset. We're excited to serve you as we approach the final quarter of the year.
If you found this article mildly amusing don't hesitate to comment, share with your friends or send us a message! We'd love to hear from you!